Has the coronavirus summoned us all to retirement?
This question has perplexed me since the outbreak of the pandemic. As director of a program for independent living for senior citizens at Joint-Eshel, I work with my team to bring change. And like everyone else, I myself need to adapt to a rapidly changing world.
So I ask: How does change affect us and how can we deal with it?
It turns out that it is not easy to change! This is true both for older adults, and for me as an employee of the Joint and a member of society. It is hard to get out of your comfort zone, out of the place where everything feels familiar and safe, and create a new reality.
Lately, as I get ready for work, which has become mostly work from home, I think about people aged 60+ who are planning to retire or who have already retired—breaking with the routine of going to their jobs. My thoughts wander to older adults, perhaps widows and widowers, who are alone at home and have to get out of bed every morning and manage their daily lives. They may face questions like, "Why get up?" and "Who am I getting up for?"
From where and from whom do they draw their strength?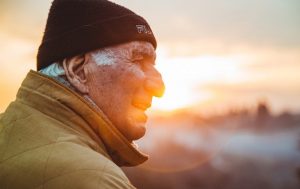 In the first weeks of COVID-19, a change began in me: I was motivated to adjust to a new reality. I even exercised three times a week! But the situation stretched on and on, eventually becoming routine. I returned to familiar patterns of behavior, working longer hours and neglecting a healthy lifestyle. They say it takes 100 days to change habits, but is that enough?!
My personal struggles make me wonder about my ability to inspire change in others. My thoughts drift to the professional tools we use in our programs, and in turn, to my field of practice today. I see a parallel between the coronavirus and retirement in Israel: A situation that is forced upon you disrupts your daily routine and paralyzes you to the extent that you may lose meaning, economic resilience, social life and more.
In March 2020, we all retired!
Think about it for a moment: The sense of isolation, being cooped up at home, the uncertainty, meaninglessness, and fear of the unknown—this is what 60,000 people in Israel feel every year when they are forced to retire from work. Some people dream of retirement, fantasizing about what they will do with the boundless freedom. But how many people really manage to cope with unlimited time and endless thoughts?
For a person who is used to going to work every day, retirement is a very serious change. To stop working or to work from home is also a significant change as is walking on the street and seeing that businesses are closed and sports and cultural events cancelled.
Retirees have time to spend outside, but they may feel closed in—that they no longer belong because no one needs them anymore (except maybe for the kids who want them to take care of the grandchildren).
If this seems like an exaggeration, I suggest you recall how you felt on March 15, 2020, when Israel imposed a lockdown in response to the rapid spread of the virus.
For most people, retirement is a complex change that labels a person as "unproductive" after being considered a "productive" member of society. But that label is inconsistent with a person's potential, capabilities and desires because he or she is often not given the option to retire but simply informed and decided for. Perhaps this marks the moment when old age is branded as weakness and misery.
Some things cannot be understood until you experience them yourself
In the process of developing the 60+ guidance centers to help senior citizens age actively and successfully, we realized that certain things are not perceived and understood until a person actually retires. Therefore we have created two different intervention programs: 1) for those still working before retirement; and 2) for those who have already retired.
So in conclusion, what can we say about old age?
Can we, who have not yet aged, understand what the older people are going through?
What thoughts preoccupy them?
What is the reason for getting up in the morning or going to sleep at night?
I suppose some will say that this is true for any period of life—childhood, youth, and adulthood—and for any other stage such as launching a career or starting a family. The difference is that we have already been young but have not yet become old.