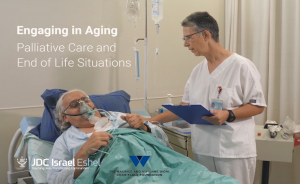 Engaging in Aging: Palliative Care and End of Life
Created by Dr. Motro, Hadas (Production); Bar Eitan, Eyal (Knowledge and Content Development); Rapaport, Assaf (Mix and Sound Design)
Audio
17.40 min.
Audio: English
2020
Summary
Join Irit Fischer-Reif and Naomi Keren in a conversation about the importance of palliative care and coping with the end of life, from both a national and community perspective.
The podcast focuses on the challenges of aging, including the Joint's response to the COVID-19 pandemic.
For more information about the tools and training mentioned, please contact Business Development Manager Hany Rooze at 
[email protected]
.
Partners: Maurice and Vivienne Wohl Charitable Foundation