When we applied for the Accelerator Program sponsored by Hackaveret (Israel's social innovation hub), we didn't really know what to expect. Hackaveret is Hebrew for "beehive" and is also a play on words on "hack." It was founded by the Joint and the National Insurance Funds.
Fresh Start (Daf Hadash), our new non-profit, was just getting off the ground. As we stepped inside the "beehive," with its honeycomb cubicles, we knew we were in for something special. Every corner of the office makes you want to plop down, open your laptop, and start pollinating ideas!
From the rigorous, two-day selection process until we became full-fledged "bees," it's hard to overstate the impact Hackaveret had on us.
Fresh Start is an organization of cause lawyers who specialize in debt relief. We work all over the country and are committed to a vision of professionalism and equity. If you get into debt (and in the wake of the pandemic, more and more people do), these are the lawyers you want by your side.
As two debt settlement attorneys, we were strange birds. Our fellow "bees" could not understand how we were connected to the world of social entrepreneurship. Indeed, this is one of the unique features of the Accelerator Program: technology ventures alongside "low-tech," programs for older adults alongside rehabilitation of prostitutes, and, well, cause lawyering! At Hackaveret, any small idea can become the next big thing.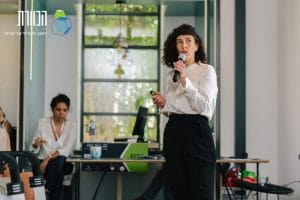 During the intensive program (be prepared!), we accomplished in a year what would have taken three or four anywhere else. We were privileged to meet amazing experts who helped us define our mission, goals, and strategy (two of them are still with us as board members).
We also learned how to build a business model, including marketing, product management, customer analysis, and financing. To top it off, we received full funding for a pilot plan on debt relief and economic recovery that proved to be especially timely during the coronavirus crisis.
Presenting our three-year work plan to the Grants Committee was a hands-on experience in budgeting, evaluation, and research—something new entrepreneurs can only dream of. This laid the foundation of what we do today. In addition to the grant money and professional support, the Joint also showed confidence in us.
Starting your own business is full of ups and downs and can sometimes feel more like a roller coaster that doesn't stop than an attempt to bring about social change.
But when large and influential organizations like the Joint and the National Insurance Funds believe in you, supervise, promote your ideas to various groups, correct, direct, encourage, and push…all you have to do is keep moving forward.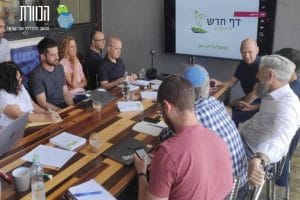 The end of the Accelerator Program was just the beginning. Two years on, Hackaveret is still an integral part of our work and our second home (when there are no stay-at-home orders). They continue to connect us to national programs and organizations such as government ministries, banks, foundations and the non-profit sector.
All of this helps us meet our social mission.
While we still have a long road ahead of us, we are ready for any bumps or curves that come our way. Thanks to a strong foundation, quality guidance and good connections, we know that someone always has our back.
Do you know social entrepreneurs who might want to take advantage of this opportunity? Send them this article and tell them that registration for the Hackaveret Accelerator Program is open.