Just before Rosh Hashanah, the Israel Philharmonic Orchestra held a tribute concert for Holocaust survivors in collaboration with the Joint and the Ministry of Labor, Social Affairs, and Social Services. The performances took place ahead of the Coronavirus lock down which forced many older adults to spend the Jewish holiday season isolated and alone.
The venue was Café Europa, a collection of social clubs for Holocaust survivors. Chamber ensembles played simultaneously in more than a dozen cities across the country, including Nahariya, Acre, Carmiel, Nof HaGalil, Hadera, and Netanya in the North; Ra'anana, Rehovot, Kfar Saba, Petah Tikva, Ramat Hasharon, and Kiryat Ono in the center; and Kiryat Gat and Beersheba in the South.
Complying with the rules and guidelines of the Health Ministry, people in the audience social-distanced and wore masks while swaying to sweet classical melodies. The concerts were documented by the film department of the Thelma-Yellin High School for the Arts in Givatayim, a suburb of Tel Aviv.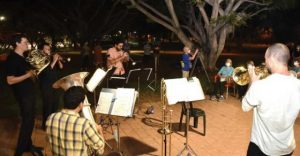 "This initiative is intended to strengthen the social, emotional, and mental resilience of a population at risk," said Yossi Heymann, Director of Joint-Eshel. "During normal times, Café Europa clubs and other care centers sponsor events, but the coronavirus has put a damper on social activities. These types of meaningful activities help alleviate loneliness while honoring and embracing Holocaust survivors in Israel."
Tali Gottlieb, Executive Director of the Israel Philharmonic, said the event offers hope in troubled times. "This exciting project enables at-risk communities to enjoy the music of the Israel Philharmonic Orchestra while providing survivors with a unique experience of culture and togetherness," she said. "I thank the Joint for its cooperation and hope we can reach more people in the future with this special kind of experience."