On September 3rd, online graduation was held for Light Up – the program for Female Arab Leadership.
Light Up is a joint venture between the Genesis Prize and the social organization Matan – Investing in the Community. It addresses the under-representation of Arab women in senior management positions and roles of influence.
"The program aims to build female leadership, smash glass ceilings and change the face of society," says director Naam Abu Harfa Samara. "We started about a year ago with 20 influential Arab women from a broad spectrum of Israeli society including politics, academia, culture and more – those who have left a legacy in their professions and fields of activism.
"Today we are celebrating the cohort's graduation, which represents the amazing community projects that these women have spearheaded. This is the starting point of a change in reality – to see Arab women who attain the highest achievements in every field and who are a model for the next generation. I am very proud of these women, of what we have accomplished and of what we will achieve in the near and distant future."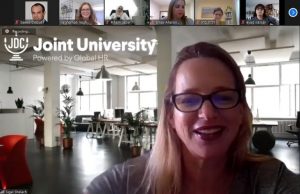 The event was attended by 20 graduates with mentors who accompanied them all along the way, along with representatives from businesses, organizations, and government.
Dr. Sigal Shelach, Director General of Joint Israel, and Einav Aharoni-Younes, Director of Joint-TEVET, congratulated the participants on their success and stressed that the next challenge is to expand their goals and circles of influence.
Sana Britavsky, Deputy CEO of the Genesis Prize, said the uniqueness of the program is elevating so-called "ordinary" women into roles of achievement and self-fulfillment. "There is nothing that excites me more than seeing them rise to greatness and success, as they become molders of public opinion and trailblazers for the women who will follow."
For more information on Light Up, contact program director Naam Abu Harfa Samara: [email protected]