On September 8, 2020, President Reuven Rivlin presented the Presidential Award for Volunteerism to people and organizations working for the rehabilitation and education of populations involved in the cycle of crime. Among the recipients were volunteers for the Community Courts program.
This program seeks to reorient the way Israel's criminal justice system treats young offenders. The Joint, in partnership with the Ministry of Justice, the Ministry of Labor, Social Services, and Social Affairs, and the police launched Community Courts in 2014. The goal of this program is to help the justice system reduce repeat crime by rehabilitating offenders and using existing community services and responses as a substitute for short prison sentences.
Three outstanding individuals received the award on behalf of the entire team: Dov, a volunteer; Gerry, a graduate of Community Courts from Tel Aviv who also became a volunteer; and Yael, a social worker from the Southern District. The three represent the face of the program – volunteers, graduates, and staff working selflessly together for the benefit of Israeli society.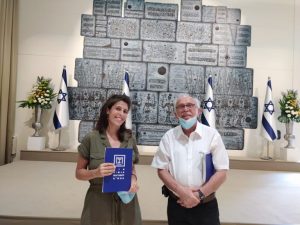 "Bestowing the Presidential Award for Volunteerism is our way, as the citizens of Israel, to say thank you," President Rivlin said with tears in his eyes. "Thank you for your caring and devotion. Thank you for deciding to take action. Thank you for recruiting so many to join your efforts. And thank you for giving us an opportunity to see the beautiful face of our wonderful country and to continue spreading hope."
For more information on the Community Courts, contact program director Dr. Daniella Beinisch: [email protected]