JDC (the Joint Distribution Committee or "The Joint") is supplying emergency aid to India to deal with the catastrophic outbreak in the country of more than 1.3 billion people. More than $100,000 was raised in 48 hours for the immediate purchase of medical equipment to support the overwhelmed health system. Partners in the campaign include the Ted Arison Family Foundation and the Jewish Federations of North America (JFNA).
The operation is taking place in coordination with the local Jewish community in India and the Israeli Consulate in Mumbai. The JDC purchased ventilators manufactured in Israel which were distributed to hospitals in Mumbai and Ahmedabad.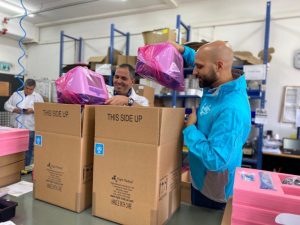 These ventilators run both on electricity and batteries so they can continue operating in ambulances or when patients are moved between various wards and hospitals. We are examining the possibility of specialists in Israel and the US providing online assistance to medical teams in India.
Emergency response is also being provided in isolated rural areas in cooperation with the SEWA Cooperative Federation, a union of 100,000 Indian professionals and entrepreneurs. We are distributing ventilators, oxygen cylinders, and other life-saving equipment to about 20 communities as well as food packages to help with shortages brought on by lockdowns and loss of income. A hotline has been established so patients can receive support from medical professionals by phone.
"The scale of the crisis and depth of the damage requires us to act immediately and decisively," says Avital Sandler-Loeff, Executive Director of the JDC's Disaster Relief & International Development Unit. "We have sent emergency aid for natural disasters in the past, but this is a unique situation. Unlike a natural disaster, which has an endpoint, this is an ongoing crisis. As the largest Jewish humanitarian organization in the world, the JDC's commitment to helping populations in disaster areas while strengthening Jewish communities and Israel has defined our values from the beginning and will continue to do so in the future."