I suffer from ASD (autism spectrum disorder), which manifests in problems with social interaction, communication, speech, making eye contact, expressing feelings, and transitioning from one activity to another.
But now my autism has come full circle, and I'm ready to move on with my life toward a brighter future. First, I would like to thank my therapist Irit Halevi for helping me put my thoughts down in words.
People who have recognized their limitations have come a long way, and many are not ashamed to share their experiences publicly. It shows me that I can too.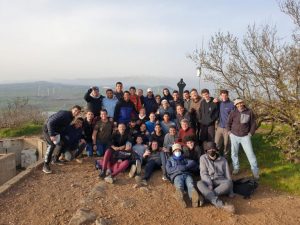 I want people to treat me like everyone else but I also want them to know that I have a disability. I attended special education classes in school and learned a lot, but it's time to leave the comfort of that bubble behind. As T.S. Eliot puts it: "Only those who will risk going too far can possibly find out how far one can go." That's why I enrolled in the Ruach HaSadeh academy: to move forward and just do it!
Here at Shibolim, people respect and have confidence in me. They make sure I'm involved and ask if I need help. I appreciate their gentle and constructive criticism.
It's important to me that my disability won't push others away. This is how I was created, and anyway, everyone has some kind of "flaw." No one is perfect. I'm not ashamed of who I am. In every difficult and challenging situation there is always a silver lining.
With hard work I now know that I can overcome these problems:
Speaking to an Audience
At the beginning of the program I was asked to tell my story, but I feared that it would make people uneasy and scare them away. But I calmed myself down with some music and managed to speak to two groups. By the time the third group came around, I felt comfortable and relaxed.
Looking People in the Eye
When talking to someone, I imagine a line near his or her eyes and look at it. Typically, I lose focus at some point and then I need to be snapped back to attention.
Waking Up for Prayer
I get up for morning prayers with the help of my roommates. They nudge me out of bed, but eventually I hope to get up for prayers each day on my own.
Leaving Your Screens Behind
During a conversation or lesson, I have to find a way to concentrate instead of 'escaping' to my screen. We are instructed to deposit our mobile devices before class, so I am able to concentrate and time passes quickly. I take notes to help me pay attention and then I don't miss my cell phone.
Controlling Negative Thoughts
Negative thinking about the past or future is harmful and stifles progress, but I fight this through classes in creative writing which help me think outside the box. I also keep a personal diary. If I think of something, I put a reminder on my phone and write it down later.
Lifting the Veil
It's hard to always be optimistic, but I try to find something positive in every situation. Take for instance, the coronavirus pandemic in which face masks separate me even further from other people. We need to stop hiding behind our masks, so we can see ourselves and others as we really are.
I want people to tell me about themselves, the story of their lives, a funny joke or their opinions on various topics, so I can understand them and learn. I hope to influence others and be influenced, and "judge [my] neighbor fairly" (Leviticus 19:15).
Dr. Seuss may have said it best: "Unless someone like you cares a whole awful lot, nothing is going to get better. It's not." If no one cares, nothing will change. Acknowledging the good gives a positive outlook and allows a person to grow, overcome his limitations, and be a better person.
–
Shibolim was launched five years ago to enable young people with and without disabilities to participate in mechinot (pre-military leadership academies). The one-year program prepares participants with disabilities for their military service and adapts training, accommodations and courses to their needs. The academies seek to change perceptions about people with disabilities and foster an environment of inclusion.
Shibolim is a collaboration among the following partners: Joint-Israel Unlimited; Ministry of Labor, Social Affairs and Social Services; Ministry of Education; Ministry of Health; Ministry of Defense; National Insurance Institute Funds; Joint Council of Mechinot; Ruderman Family Foundation; UJA-Federation of New York.
For details and registration: Noa Cohen, Recruitment Coordinator
Email: [email protected]
Phone: (052) 225-9035
Registration for the fall of 2021 is in progress!
For more info, visit: Joint Council of Mechinot