For more than a decade, the prestigious Zusman-Joint Prize has been awarded for excellence in the development of social services in Israel. Its goal is to raise awareness of social issues and honor people who help disadvantaged populations.
This year, the award will be presented to three outstanding teams, with a prize of $25,000 each.
In the Category, Responding to Loneliness and Mental Health Issues arising from Social Distance and Isolation," the winners were members of Halasartan (Stop-Cancer): CEO Shira Segal Kuperman, Dr. Yifat Mor, Adi Muggia, Saar Amit, and Michal Bar-Doron.
Halasartan is a unique non-profit organization that provides support for thousands of young adults who have cancer. It has created solutions for an international index of health systems known as "Unmet Needs for Health Care." The team mobilizes the community to develop initiatives addressing the unmet needs of cancer patients, such as creating employment opportunities.
Halasartan is a project of the Tal Center for Integrative Oncology that was launched in 2016. It seeks to change the popular perception that cancer patients are the sole responsibility of medical professionals, providing a greater role for the community. This, in turn, helps the health care system improve its services.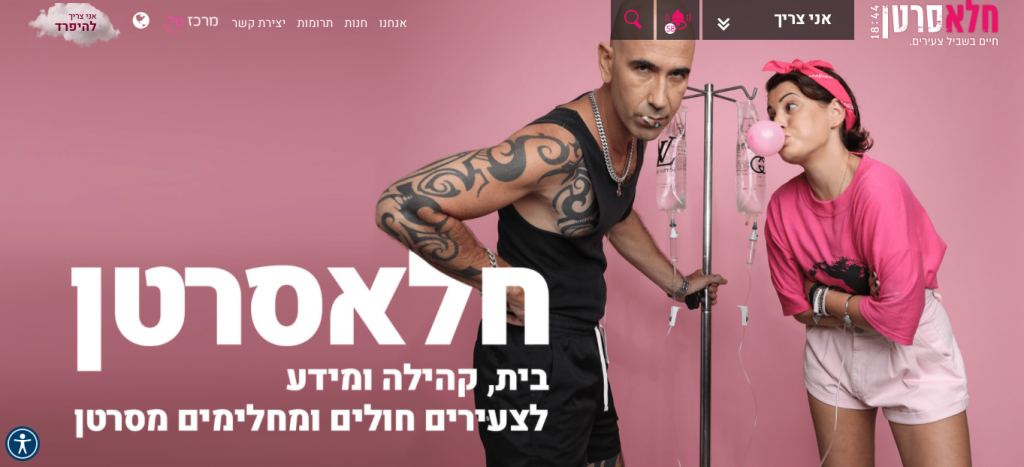 The "Halas Corona" program began in March 2020 with the outbreak of the COVID-19 pandemic in Israel. During this time, Halasartan has been writing a new guide reflecting the "unmet needs" outlined by the patients themselves. The guidelines were gleaned from hundreds of thousands of social media posts and comments from the community of patients, as well as surveys and focus groups.
In the category, "Innovative Models for Providing Social Services in a Changing Reality," the winners are members of Shekulo Tov (All Good): Hadar Gur Aryeh – VP of Marketing, Hagar Aloush, Inbal Boaz, Libby Harpaz and Nir Shabi.
Shekulo Tov is a non-profit organization that seeks to bring innovation and a different outlook to the world of occupational and social rehabilitation for people with disabilities. It is a service provider of the Ministry of Health, Ministry of Labor, Social Affairs and Social Services, Ministry of Defense, and the Prison Service.
The organization operates a groundbreaking rehabilitation center called the "Integrative Unit Model," winner of the Zero Project Award presented at the UN in 2017. The model promotes vocational rehabilitation and skills, career development, training programs, and job placement.
The winner is Shekulo Tov's professional development and rehabilitation team, which offers a personal touch by accompanying service recipients on a daily basis.
Shekulo Tov was founded in 2005. Since then, it has developed eight employment ventures including various social businesses. Participants receive on-the-job training and rehabilitation at cafés, second-hand bookstores and clothing stores, gift stands in malls, factories, dog walking services, and more.
In the category, "Encouraging Long-term Economic Resilience by Developing Skills and Abilities for the Changing Workplace," the winners are members of Tofsim Kivun (The Right Direction): Irit Reisman – Chairman, Eti Peretz Heimes, Shachar Dayan, Noa Ladani Bashan, and Moran Doron.
Established in 2014, Tofsim Kivun promotes equal employment opportunities for young academics from the geosocial periphery, believing this is a key to progress both at the personal and national level. The program is aimed at graduates of higher education institutions, including engineers, who cannot find suitable jobs despite their qualifications. This poses a serious crisis for these talented young people who face the prospect of no returns on their large investment in education and who, instead of contributors, could even become a burden on society.
Tofsim Kivun facilitates career advancement and integration into a dynamic and changing job market while strengthening the economic situation in the geosocial periphery.
The team leads an extensive community of partners, volunteers, and organizations, demonstrating the immense value of joining hands and pooling resources. The program aspires to the highest professional standards of quality control, measuring results and drawing conclusions. This has brought rapid growth to the benefit of more and more young people across the country.
Congratulations to the outstanding winners!
The Zusman-Joint Prize is bestowed in memory of Leonor and Larry Zusman, who generously contributed to social projects in the State of Israel. The Zusman family has been a dedicated partner of the Joint for many years and is active in a wide variety of programs to help people with special needs, including the ultra-Orthodox and Israelis of Ethiopian descent.