Following the lockdowns and restrictions brought on by COVID-19, Khaled Shalush, the head of social services at the Arraba Municipality, received a request from residents to start a community project to deal with the consequences of the pandemic. Their idea: to set up a local market in the small Arab town in Galilee.
"Community activists teamed up with small businesses and launched a three-day fair at the youth center, including light refreshments, in accordance with Health Ministry guidelines," says Shalush. "Organizers took responsibility for scheduling in order to prevent large gatherings at the entrance."
Over 1,200 families attended and purchased 15,000 items. Twenty hair stylists gave free haircuts to 200 children participating in after-school programs, and a group with special needs baked 250 boxes of cookies which were distributed around town. Residents also donated NIS 20,000 ($6,000) to purchase clothing and shoes for needy families.
"I joined a group of activists here in the village and learned how to be a leader," says Meyson Ahmad, a female resident. "I don't wait around for help. I organize people and create change. If we want to see progress, we can't wait around. We have to meet, discuss it as a community, and just do it!"
This is just one example of a new national initiative called "Thriving Communities." Spearheaded by the Ministry of Labor, Social Affairs and Social Services, the Joint, and the Rashi Foundation, it has more than 50 partners from the social sector, businesses, local authorities, and the national government.
"Thriving Communities promotes resilience and a national standard," says Dalia Lev-Sadeh, director of community services at the Ministry of Labor. "It demonstrates how encouraging active community life, strong neighborhoods, local leadership and broad coalitions creates involvement, solidarity and social cohesion. We can all come together to identify problems, develop and provide solutions, and help prevent the deterioration of local families and neighborhoods."
Partners are pooling their knowledge and resources to improve coordination and create a common strategy for national success. They are also working to strengthen local communities in the geo-economic periphery in order to advance social mobility and improve quality of life.
"In recent months, we have been facing a global health, economic and social emergency triggered by the Coronavirus," says Shmuel Yilma, head of community programs the Joint's division for social mobility. "The community has played a prominent role in spreading the virus, but now we should test its ability to stop the spread in an act of collective responsibility for the common good."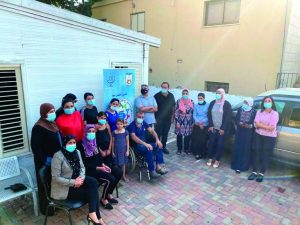 In Jerusalem, the municipality has joined forces with the community through the Anshei Hayil ("People of Valor") program which helps families infected with the virus maintain isolation and prevent further infection. Local leaders, activists and rabbis were recruited to gain the trust of families, and together, they locate people with the illness and urge them to take the necessary precautions and thus reduce morbidity.
The initiative is a joint project of residents, the Jerusalem municipality, the Ministry of Defense, the Ministry of Labor, Social Affairs and Social Services, the Home Front Command, and community centers. In light of its success, the project is expanding to more neighborhoods in East and West Jerusalem and outside the city as well.
"Research around the world points to the importance of the community in promoting social leadership, equal opportunities and quality of life," says Erez Roimi, director of Innovation and Entrepreneurship at the Rashi Foundation. "The Coronavirus crisis has only reinforced this trend. The Thriving Communities initiative will strengthen local authorities and increase the effectiveness of programs in the public, private and voluntary sectors."
In Beersheba, grassroots activists established a "Community Patrol" to combat the virus in cooperation with the municipality. This version of Neighborhood Watch supplies information, identifies needs (such as loneliness due to self-isolation), and provides immediate assistance on behalf of the community.
"A strong community is a safety net that leaves no one behind, hence the name 'Thriving Communities,'" says Dr. Ariel Levy, director general of Joint-Ashalim. "It is precisely during this Coronavirus emergency that it is important to promote social mobility and equal opportunities for the next generation. We see that connecting ordinary people to local and national authorities is essential to achieving these goals."
This article was also published on the Ynet news website.